Biography of Interim Pastor  Rev. Dr. Jay Marshall Groat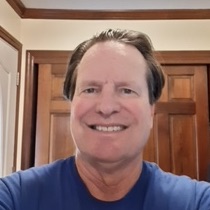 Jay was ordained in 1987 in the Presbyterian Church and in 2007 in the United Church of Christ. He began his ministry in Illinois, and has been serving in Ohio since 2000. He led the First Congregational Church in Akron, Westerville Community UCC, and United Church of Granville. After serving as the settled pastor in those churches, he began serving as an interim pastor. He recently completed an interim pastor role at North United Church of Christ in Columbus.
Jay received his Bachelor of Arts degree in history from Mount Union College and both his Master of Divinity and Doctor of Divinity from McCormick Theological Seminary in Chicago. He received his Transitional Ministry training in 2021.
Jay and his wife, Vicki Owens Groat, have been married since 1982. They have a son, Jackson, a graduate of the College of Wooster (Political Science), who works in Ohio politics.
Jay loves to read, watch movies (film noir is his favorite), and grill outside.  He is an athlete and loves to exercise and play sports, golf in particular.
Expectant Waiting by Rev. Dr. Jay Marshall Groat - December 3, 2023
Sheep and Goats by Rev. Dr. Jay Marshall Groat - November 26, 2023
Keep Watch by Rev. Dr. Jay Marshall Groat - November 12, 2023
Good for the Heart by Rev. Dr. Jay Marshall Groat - November 5, 2023
A Cheerful Giver by Rev. Dr. Jay Marshall Groat - October 29, 2023
A Complex World of Competing Loyalties by Dr. Jay Marshall Groat - October 22, 2023
Many Are Invited by Rev. Dr. Jay Marshall Groat - October 15, 2023
Biblical Leadership by Rev. Dr. Jay Marshall Groat - October 8, 2023
The Perfect Pastor by Rev. Dr. Jay Marshall Groat - October 1, 2023
Outrageous Grace by Rev. Jay Marshall Groat - September 24, 2023
To Err Is Human. To Forgive, Divine by Rev. Dr. Jay Marshall Groat - September 17, 2023
Faith Community by Rev. Dr. Jay Marshall Groat - September 10, 2023
What's in It for Me? by Rev. John Crampton - September 3, 2023
On This Rock by Rev. Dr. Jay Marshall Groat - August 27, 2023
Face of Grace by Rev. Dr. Jay Marshall Groat - August 20, 2023
False Edvidence Appearing Real by Rev. Dr. Jay Marshall Groat - August 13, 2023
You Do It by Rev. Dr. Jay Marshall Groat - August 6, 2023
I Do Not Sleep by Rev. Dr. Jay Marshall Groat - July 30, 2023
Ordinary People by Rev. Dr. Jay Marshall Groat - July 23, 2023
Good Soil by Rev. Dr. Jay Marshall Groat - July 16, 2023
Equal to Life by Rev. Dr. Jay Marshall Groat - July 9, 2023
A New Life by Rev. Dr. Jay Marshall Groat - June 25, 2023
Kingdom of Heaven by Rev. Dr. Jay Marshall Groat - June 18, 2023
Take Heart by Rev. Dr. Jay Marshall Groat - June 11, 2023
A Place at the Table by Rev. Dr. Jay Marshall Groat - June 4, 2023
The Church Is the World by Rev. Dr. Jay Marshall Groat - May 28, 2023
Like a Little Child by Rev. Dr. Jay Marshall Groat - May 21, 2023
Mom at the Wheel by Rev. Dr. Jay Marshall Groat - May 14, 2023
Meaning, Purpose, Direction by Rev. Dr. Jay Marshall Groat - May 7, 2023
All We Need to Know by Rev. Dr. Jay Marshall Groat - April 30, 2023
Things Remembered Are Alive by Rev. Dr. Jay Marshall Groat - April 23, 2023
Peace Be With You by Rev. Dr. Jay Marshall Groat - April 16, 2023
What's in a Name? by Rev. Dr. Jay Marshall Groat - April 9, 2023
The Road to Jerusalem by Rev. Dr. Jay Marshall Groat - April 2, 2023
Lazarus Lives - Rev. Dr. Jay Marshall Groat - March 26, 2023
Open Our Eyes - Rev. Dr. Jay Marshall Groat -March 19, 2023 Marshall Groat
A Spring of Water - by Rev. Dr. Jay Marsall Groat - March 12, 2023
A Time for Self-Reflection - by Rev. Dr. Jay Marshall Groat - March 5
Follow the Banners - by Rev. Dr. Mearle Griffith - January 29
Jesus' Model for Times of Transition - January 22
The Love and Truth Lens of MLK - January 15
What Happens When We Stop Opening Presents and Listen - January 1
God Is with Us and God Is Love - December 18
Good News to Rejoice About! - December 11
Why Do They Fall Away? - by Rev. Rob Burdette - December 4
Full Societal and Personal Well-being - November 27
God Who Is Love Creates No Hell - November 20
If Jesus Really Said It, Why Don't We Act Like It? - November 13